Bleed Air Valves
The new generation Meggitt Bleed Air Valves with increased pressure and temperature capabilities.
Staging Valves
Accurate and reliable solenoid valves for DLE gas turbines.
Fuel Metering Valves
Reliable electric actuated Fuel Metering Valves for General Electric LM and Rolls Royce Aero Derivative gas turbines.
Shutoff Valves
Fast actuated shutoff valves for critical and safe gas turbine operation. ATEX, PED and UL certified.
CDP & Purge Valves
CDP Vent and Purge Valves designed for use on aero-derivative gas turbines to withstand high temperatures
The new Meggitt bleed air valves now released to the aftermarket. The Meggitt valves have increased durability at lower cost. GE LM part numbers for the new generation valves: 2,5" –
L59091P05 |
4" –
L59090P02
| 6" –
L59092P03
More info ›
Contact VBR ›
High temperature resistant valves that actuate within 100 milliseconds. Incorporating a linear piston for low friction and high output that complies with ANSI Class V and ATEX standards. Available in 24 and 125 VDC and failsafe in open or closed position.
More info ›
Contact VBR ›
Meggitt Whittaker fuel control metering valves offer the highest accuracy, improved NOX levels and decreased fuel consumption. Meggitt valves are ATEX Zone 2, PED, UL and NEC Class 1 certified for reliable operation in extreme environments.
More info ›
Contact VBR ›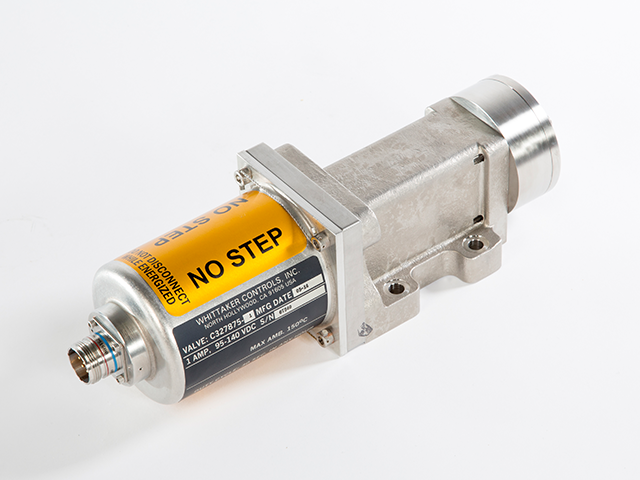 The
L44538P01
and
L44680P01
staging valves are the last valves in the fuel line to the DLE combustor. Exact timing and minimal leakage contribute to low emissions and easy mapping. Millions of hours in the field have proven extreme high reliability of this valve.
More info ›
Contact VBR ›
Meggitt's 1,5″ and 2″ Shutoff valves shut down the fuel flow in less than 100 milliseconds and are able to handle pressures up to 1000 PSI. Depending on gas turbine and controls system, these valves can be configured to either 24 or 125VDC.
More info ›
Contact VBR ›
Motor Controls
Meggitt fuel valves are designed to be controlled by Meggitt digital or analog servo motor controllers. The motor controllers are designed to use signals from any control system like the Speedtronic, Woodward Netcon or Allan Bradley.
More info ›
Contact VBR ›
Welcome to
Meggitt Valves & Whittaker Controls
VBR Turbine Partners is proud to bring all Meggitt OEM services to Rolls Royce (Siemens), General Electric and Solar gas turbine operators. VBR provides new Meggitt Gas Turbine Valves and Controls, product upgrades and OEM approved overhaul services from our own location in Elst, Netherlands. VBR Turbine Partners is the only OEM approved distributor and overhaul facility for Meggitt Whittaker based in Europe. (more)
For years Whittaker Controls was known as a well respected engineering company of gas turbine air flow control and fuel control valves. A company with a history starting in aviation and aerospace that has further developed this knowledge for the industrial gas turbine industry worldwide. Based in North Hollywood California, Whittaker Controls became a member of Meggitt Plc group in 1999.
Over the last years Meggitt made a transition in valve actuation technology. The products evolved from 'brute force' hydraulically actuated valves to well balanced fully electrically operated control valves. This resulted in more reliable, more accurate, faster actuating and more economic control valves for gas turbines. Fuel valves operate under the most demanding and extreme conditions. Reliability has remained the main criterea for all product developments.
Please contact us for any inquiry on Meggitt Controls gas turbine valves or OEM overhaul services you may have.
***  IMPORT UPGRADE INFORMATION ***
MEGGITT MOTOR CONTROLLERS C450305
Dear Customer,
VBR Turbine Partners wishes to inform you on the Meggitt motor controller for fuel metering valves.
Part numbers that are affected by this message:
C450305 Motor Controller
C450285 (C450305 triple enclosure)
C450295 (C450305 with hi-temp enclosure)
The C450305 motor controller is a replacement for the obsolete C173455 analog motor controller.
The C450305 is however NOT A DROP-IN replacement
It is required to make changes in your controls system and possibly in the motor controller itself before installing the C450305 motor controller in your system.
So, before you install a new motor controller, take the following steps and pre-cautions into consideration:
1. Make a backup of the settings in your controls system.
2. Make sure that you have a RS485/422 adapter ready to make changes in the motor controller
3. Make a backup of the motor controller settings
4. Have the part number and serial numbers from your motor controllers (old and new) and FMV noted
5. Check settings in the Maintenance Manual
6. Check and note how are the comm cables RX- RX+ TX- TX+ are connected
7. Check and note how the Signal ground is wired
8. Check or take a photo of the rotary switch settings
9. Check and note the communication settings in the controls system
10. Have a drawing of the current loop & wiring setup ready
In many cases the motor controller will behave as programmed. Problems have been found with operators operating Speedtronic Mark VLM, MKVI and MKVIe controls systems.
In case you have one of these controls systems, or any other question with respect to installation of the C450305 motor controller, please contact us on meggitt@vbr-turbinepartners.com.
End of Life Notification
Essential parts obsolete for C173455 motor controller
For many years Meggitt/Whittaker has provided a motor controller with part numbers C173455 and C173465 to drive her metering valves. Unfortunately essential replacement parts for this motor controller are no longer in production. Repair of your existing motor controllers will not be possible anymore by lack of these essential parts.
Meggitt part numbers affected: C173455 & C173465
Replace obsolete motor controllers by new generation digital controllers
Meggitt has released a new generation digital motor controller C450305-1 to replace the existing motor controller C173455. This digital controller comes in three different configurations, depending on your specific engine situation and ATEX zone requirements.
Replacement table Meggitt motor controller configurations

Meggitt motor controller configuration
Obsolete
Part nr.
Replacing
Part nr.
1 x controller, no enclosure
C173455
C450305
1 x controller in ATEX zone 1 explosion proof enclosure
C173465
C450295
3 x controller in ATEX zone 2 explosion proof enclosure
Not available
C450285
Important retrofit remark

A retrofit from the current obsolete motor controllers to the new digital Meggitt controllers requires an exchange of all motor controllers in the same fuel system at the same time. It also requires adjustment of specific parameters in the control system for proper functioning of the new digital controllers.
VBR retrofit support
For tailored information about the best way to replace your current obsolete motor controllers with the new digital Meggitt controllers contact VBR Turbine Partners.
VBR will fully support you to realize a smooth & timely transition from your current obsolete analogue controllers to the new digital controllers.

GE released Service Bulletins
LM2500-IND-0283 & LM6000-IND-0326
GE Power & Water has approved all Meggitt bleed air valves for use on GE LM gas turbines
"NEW BLEED AIR VALVE WITH IMPROVED RELIABILITY"
The latest service bulletin is a notice to LM operators worldwide to replace their existing Honeywell bleed air valve by
a Meggitt next generation valve. A number of improvements are the result of years of development.
Inadequate seals and spacers have been replaced. New thermal shielding of the LVDT and torque motor wiring will prevent chafing and feedback problems from happening. Larger and better bearings ensure correct positioning of the butterfly disk and scraper ring at all stages and prevent leakages.
Meggitt recommended overhaul interval for bleed air valves: every 50.000 hours of operation
More information on the new Meggitt Bleed Air Valves found on this page
Download our latest newsletter
For more information on the upgrade or an inquiry, contact VBR Turbine Partners
ASK FOR ROTABLE EXCHANGE OPTIONS
VBR Turbine Partners Netherlands partner for
Precision Engine Controls Corporation
In January 2015 Meggitt Plc announced the acquisition of PECC – Precision Engine Controls Corporation – based in San Diego, CA. PECC is a leading supplier in advanced industrial gas turbine technology. The acquisition completed the Meggitt product portfolio now covering gas turbine control valves in the light-range and mid-range (Aero-derivative) industrial gas turbine industry (1 – 100 MW).
Precision or PECC now being a part of the Meggitt Corporation is aiming to bring her services closer to gas turbine operators worldwide. It is a logical step to have VBR Turbine Partners to close the bridge to Solar, Rolls Royce and Siemens gas turbine operators.
VBR Turbine Partners will be stocking Precision Valves in her facility in the Netherlands. New PECC valves should be ready for shipment in a matter of days. More steps in order to improve repair capabilities and rotable exchange options will follow in order to improve reaction and turnaround times. More information on PECC valves can be found on this web page.